A couple of facts:
The IPA I brewed two months ago is down to its last two bottles.
Summer barbeques are on the horizon. 
The family were out last Friday.
I had the day off.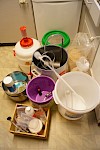 That means I brewed two batches of beer that day… Following on the success of the latest IPA, I made that again. Additionally, as we always really enjoyed the local "Aare Amber", I had decided to try my hand at an amber ale myself. The "Aare" one is a bottom fermented amber lager, but as I enjoy a bit of added flavour and complexity, mine is top-fermented.
Amber Ale
The recipe, inspired by several sources:
1.6 kg Pilsner Malt (3 EBC)
2 kg Vienna Malt (7 EBC)
800 g Munich Malt (15 EBC) 
220 g CaraAroma Malt (350 EBC) – I do want an amber, not a pale ale.
50 g Acidulated Malt as a pH buffer and because I've seen it in a lot of recipes
20g Hallertauer hops for bittering
30g Tettnanger hops for aroma (added 40 minutes into the boil)
11.5g Safale S-04 dry ale yeast – has to be used up and I didn't have the relevant Wyeast on hand anyway
The mash consisted of a protein rest at 54°C (10 minutes), two amylase rests at 62°C (45 minutes) and 72°C (20 minutes), mashout was at 78°C for 5 minutes.
I was quite pleased how clearly the beer ran out of the lautering tun. To get it even clearer, I added 10g of seaweed 50 minutes into the boil. Depending on how the beer looks after primary fermentation, I might go all fancy and polish it with gelatin before secondary fermentation.
The boil and cooling were uneventful, dry yeast was reactivated before adding and seemed to go straight to work – after cooking up the second batch there was already a very noticeable krausen forming.
IPA
The IPA went similar to last time, conversion again wasn't complete after mashing for an hour. Thirty more minutes did the job though. Lautering and sparging were slightly more challenging, I did get nice clear beer but had a stuck sparge about a third of the way through. Blowing air up the outflow tube and stirring the lauter tun helped, but led to significantly more cloudy runoff. Seaweed went into the boil at 50 minutes, after the usual hop additions at the usual times.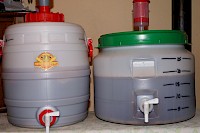 Right now, the beers are fermenting in their respective primaries; secondary fermentation – if any – will be done in two NC-type Cornelius kegs I bought second hand. All I need now is a fridge that will fit the barrels and possibly a compensator-tap to mount on top of that fridge.
There was one weird phenomenon I only noticed after brewing. The two remaining bottles of IPA seem to have misteriously disappeared. I can only assume they wanted to make space for the new one…
Oh, and I've started naming my beers. The names of those two will be revealed when I put them into the kegs. Watch this space.
 
No Comments